Fiscal Year 2023 Budget Request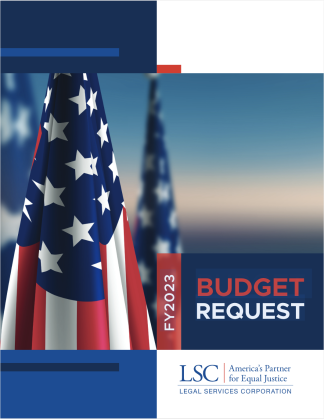 Summary/Overview
LSC requests an appropriation of $1.26 billion for FY 2023, an increase of $245 million from last year's request. Our request addresses the anticipated increase in demand for civil legal services due to the disproportionate impact that COVID-19 is having on low-income communities, coupled with the ongoing lack of adequate resources to provide civil legal assistance to millions of Americans eligible for LSC-funded services before the pandemic. As a result of COVID-19, we expect the number of people seeking legal assistance to increase significantly over the next several years. LSC grantees across the country desperately need additional resources to assist vulnerable people facing increases in evictions, foreclosures, domestic violence and problems with unemployment insurance and consumer scams.
LSC's FY 2023 budget request follows decades of chronic underfunding of civil legal aid. In FY 1994—28 years ago—Congress appropriated $400 million for LSC. LSC's appropriation has increased only slightly—to $489 million in FY 2022—not remotely enough to keep up with inflation, much less the increased demand and need for services resulting from recessions and the pandemic that have occurred over the last three decades. Adjusted for inflation, the 1980 appropriation of $300 million would be more than $900 million in 2022 dollars. With the global pandemic, and the increasing numbers of people newly eligible for legal services, the need for substantially increased federal financial support for civil legal aid is even greater.
LSC's request has two components: (1) reducing the justice gap by 75% and (2) increasing our Basic Field grants by 70% to respond to COVID-19. To enable LSC grantees to provide some level of service to address 75% more civil legal problems than they served before the pandemic, the budget for Basic Field grants must be increased to $718 million. An additional $502 million is needed to provide pandemic-related services bringing our Basic Field request to $1.22 billion. Funding for Basic Field grants represents 96% of our overall budget request.