LSC's 2018 Innovations in Technology Conference
January 10-12, 2018 in New Orleans, LA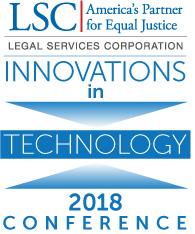 Join us January 10-12, 2018 in New Orleans, LA for LSC's Innovations in Technology Conference. After 17 years as the Technology Initiative Grants (TIG) Conference, we are changing the name to reflect the growing community of people who now attend the conference to share ideas and explore innovative ways of using technology to promote access to justice in civil legal aid. LSC's Innovations in Technology Conference will bring together technologists, legal aid advocates, court personnel, academics and other professionals to showcase technology projects and tools being implemented across the country and internationally. The conference also provides an opportunity to network with a national community of colleagues and to cultivate project ideas that could lead to successful TIG applications. 
Conference Agenda
The tentative conference agenda is now available. Please check back for updates. Full session descriptions and presenter information will be available in early November.
Who Should Attend
Legal aid advocates 
Legal technologists
Court Self Help staff
Pro bono coordinators
Private attorneys
Law School Professors
Document assembly developers and project managers
Law Librarians
Anyone with an interest in how to use technology in the delivery of legal services
What Can I Learn
Session topics will cover a range of issues on how technology can increase access to justice, including:
tools to improve limited scope or self-representation for those persons whom legal aid organizations are not able to represent fully;
improving the efficiency and effectiveness of access, triage, and intake;
encouraging and supporting pro bono;
cutting edge technology developments for legal services using artificial intelligence
delivering legal services remotely to hard-to-reach populations;
providing legal services staff and pro bono advocates with better litigation and case development support;
improving management and internal operations in legal aid offices, including the use of:

case management systems
telephone systems
document management
business process analysis
networks and security
project management
See session information, videos, and materials from past conferences.
Networking Opportunities
There will be an opportunity to exchange information in more informal Affinity Group sessions and dinners, which attendees help to determine at the time of registration. An ignite-style plenary called Rapid Fire Tech provides fast-paced presentations that highlight technology project successes, new ideas, and lessons learned.
Conference Hotel
All conference sessions will be held at the JW Marriott New Orleans, 614 Canal Street, New Orleans, LA. A special conference hotel rate is available for $148 per night. To reserve a room, go to the special conference hotel booking site for the JW Marriott. Reservations in the hotel block of rooms is available until December 18, 2017.
Conference Registration
Early registration for the 2018 Innovations in Technology Conference is $420 through November 30, 2017. Regular registration is $470. Group registrations are $395 per person for organizations sending three or more participants who are paying full registration fees. Conference registration includes breakfast and lunch each day and one evening reception on Wednesday. Register for the 2018 Innovations in Technology Conference.
The official Twitter hashtag for the conference is #LSCITC