Talk Justice: Episode Twenty Two
Image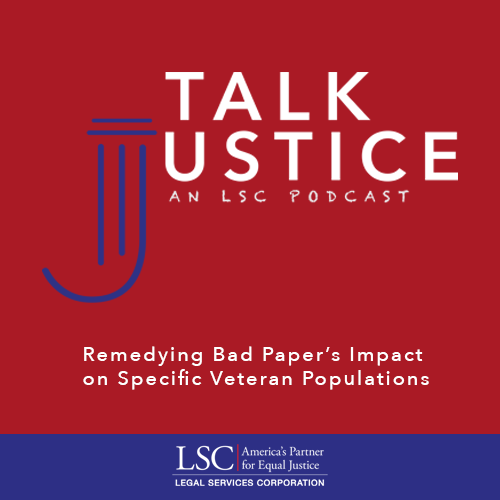 Remedying Bad Paper's Impact on Specific Veteran Populations
Veterans advocates discussed how unfavorable discharges, known as "bad paper," prevent veterans from accessing the basic benefits and services they need on the latest episode of "Talk Justice," the Legal Services Corporation's (LSC) podcast.
Podcast Guests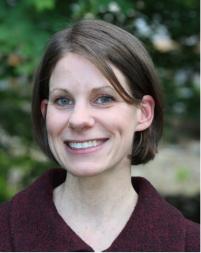 Margaret Kuzma is an Attorney in the Veterans Legal Clinic, where she represents low-income veterans upgrade their less-than-honorable discharges. She also works as the Director of the Veterans Inclusion Project at the Connecticut Veterans Legal Center. She has taught as a visiting clinical lecturer with the Veterans Legal Services Clinic at Yale Law School, and co-founded the Veterans Law Project at Quinnipiac University School of Law. Margaret started her legal career as a Skadden Fellow Attorney at the Legal Assistance Foundation in Chicago, Illinois where she served low-income veterans and military families. Before becoming a public interest attorney, Margaret worked as the Sexual Assault Response Coordinator for Fort Benning and USAG Baumholder. Margaret received her J.D. from DePaul University College of Law and her B.A. from Brown University.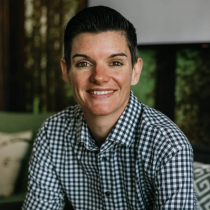 Lindsay Church (they/them) is MVA's Executive Director and Co-Founder and has nearly a decade of experience rooted in veteran's advocacy and grassroots organizing. They have facilitated agency-wide cultural competency trainings and assessments to ensure organizations and governmental entities are able to serve their minority and veteran constituencies effectively and efficiently. Their previous appointments include LGBTQ Commissioner for the City of Seattle, Co-Chair of Congresswoman Suzan Delbene's (WA-1) Veterans Advisory Council, and they have participated in Armed Forces Academy selection for Congresswoman Pramila Jayapal's (WA-7). Lindsay is a veteran of the U.S. Navy, where they served as a Cryptologic Technician Interpretative.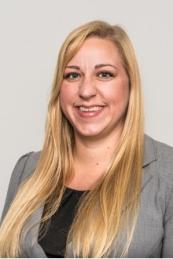 Carolyn Colley earned a bachelor's degree in Russian studies from the University of California, Davis, after which, Carolyn taught English in St. Petersburg, Russia. She graduated from the Quinnipiac University School of Law, where she focused on veteran policy, military law, and mediation, and became a certified mediator. Following military service, Carolyn's professional career has centered around military and veterans' issues, to include work with the Connecticut Veterans Legal Center, the Center for Veterans Advancement, the Military and Veterans Unit for Lone Star Legal Aid, and the Department of Veterans Affairs. Carolyn volunteers as a peer mentor for TAPS.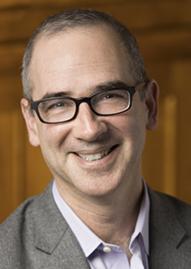 Michael J. Wishnie is William O. Douglas Clinical Professor of Law and Counselor to the Dean at Yale Law School. Wishnie's teaching, scholarship, and law practice have focused on immigration, labor and employment, habeas corpus, civil rights, government transparency, veterans law, and voting rights. For years, Wishnie and his students have represented low-wage workers, immigrants, veterans, and voters in federal, state, and administrative litigation. He and his students have also represented unions, churches, veterans' groups, and grassroots organizations in a range of legislative, media, and community education matters.
Moderator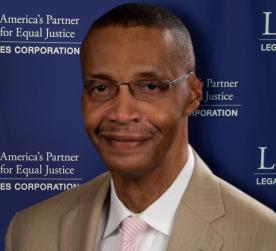 Will A. Gunn is the Vice President for Legal Affairs and General Counsel for the Legal Services Corporation (LSC). In 2009, he was appointed by President Barack Obama as the General Counsel for the U.S. Department of Veterans Affairs, a position in which he served for five years. Subsequently, he was an attorney with a solo law practice, assisting military members facing adverse actions.