Increasing Access to Justice Forum & Reception
March 27, 2023 • 3:00pm - 7:30pm •
Washington, DC
This event has reached capacity. Due to the security requirements, we are unable to keep a waitlist. We look forward to seeing you at future LSC events.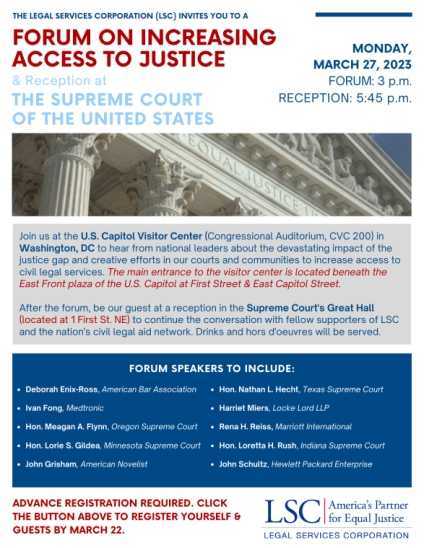 On Monday, March 27, 2023, at 3 p.m. ET, join us at the U.S. Capitol Visitor Center (Congressional Auditorium, CVC 200) in Washington, DC for LSC's Forum on Increasing Access to Justice. Hear from national leaders about the devastating impact of the justice gap and creative efforts in our courts and communities to increase access to civil legal services. The program will include a panel of Chief Justices from Indiana, Minnesota, Oregon, and Texas focused on the growing efforts to empower paralegals and other non-lawyer advocates to provide targeted, limited legal services. Novelist John Grisham, national business leaders and government officials also will speak. The main entrance to the visitor center is located beneath the East Front plaza of the U.S. Capitol at First Street & East Capitol Street.
After the forum (from 5:45-7:30 p.m. ET), be our guest at a reception in the Great Hall of the U.S. Supreme Court (located at 1 First St. NE) to continue the conversation with fellow supporters of LSC and the nation's civil legal aid network. Drinks and hors d'oeuvres will be served.
Advanced registration is now closed. Participants also will need to show government-issued photo ID to enter. Contact bradyb@lsc.gov with any questions.